About us
Welcome to Auction House Weidler
AUCTION HOUSE WEIDLER is northern Bavaria's largest art auction house and is located at Albrecht-Dürer-Platz 8 in the heart of Nürnberg's old town (customer parking spaces are available).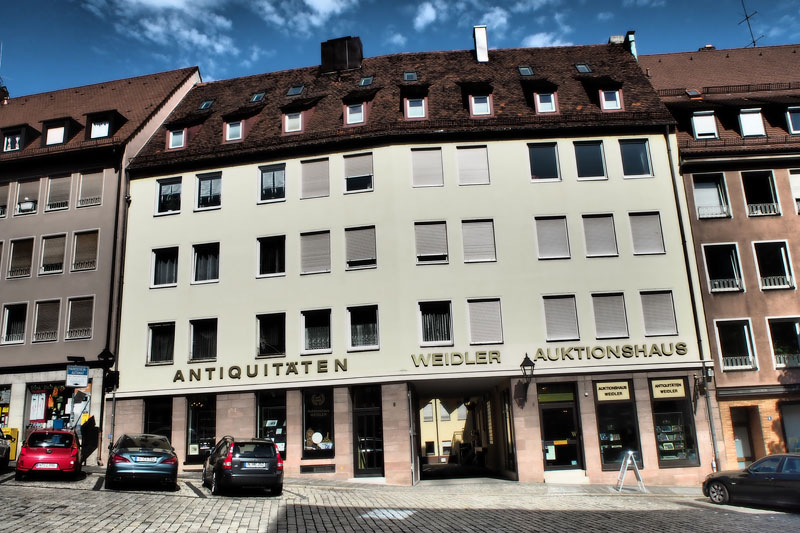 The Weidler family and its team of art historians, who have had professional experience since 1970, are your reputable, competent, reliable contact partner for your objets d'art.
Since their company was formed in 1980, Herbert and Gabriele Weidler, together with their daughters Kathrin and Kerstin Weidler, have been offering the public the opportunity to have antiquities and gems appraised, sold, auctioned and bought at auction.
The publicly appointed, sworn auctioneers Kathrin, Kerstin and Herbert Weidler are looking forward to your goods.
The spectrum includes selected antiquities from over four centuries, such as jewelry, coins, watches and clocks, silver objects, paintings, furniture, porcelain, sculptures, carpets and rugs, books, postage stamps, old toys, furs, old timers and other motor vehicles, and modern design objects.
AUCTION HOUS WEIDLER conducts nine big auctions every year. In addition, there are roughly 40 household, estate, villa and castle dissolutions on site every year.
We accept your objects for our auctions throughout the year and can advise you in the auction house or on your premises.
We assure you of professional, timely processing of your entire order. You are guaranteed the success you are looking for through our name in connection with our continually growing customer file with more than 10,000 addresses in Germany and abroad for all collection areas and groups of goods.